|
One night in Istanbul just wasn't enough, but goodbye for now.
Like a rally car race, and with only enough cash to pay in coins,
we take a crazy taxi ride along the waterfront to catch our flight
at the Istanbul Atatürk Airport and then onward to three days in Düsseldorf, Germany.
Upon arrival at the Düsseldorf Airport for the second time in a month,
and after some extensive review of a Linienplan map
of the somewhat confusing Metro train system, we found our bearings.
Remember, when in Germany, "ß" sounds like two S's.
Example: Street = Straß, but sounds like "Strass"
lost under the overcast sky, we passed a taxi stand.
The directions came in English, "That way, left, right, and right, and there you are."
"Ah! Thank you! Dankeschoen!" we bid the taxi hacks and carried on.
After checking in with the tourist center en route,
the agent was kind enough to inform us of one of the local specialties,
She gave us a map of the area and pointed out at least five breweries on the area's walking tour.
Mostly a recovery day, we found our hotel and spent twenty two hours sleeping
to overcome the jetlag and everything else Europe had to throw at us.
View from City Apart Hotel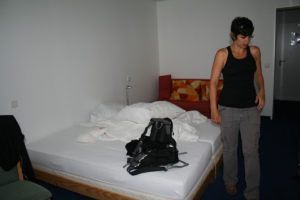 A well deserved rest, the clock in the room off by some hours,
so we were confused waking in the night
wondering where we are and what the time is…
Germany. Night. Keep sleeping…