Wake up early in San Simeon, California, check out of the San Simeon Lodge,
and head over to the San Simeon Beach Bar & Grill for breakfast and coffee,
and then drive over to the Hearst Castle Visitor Center to catch a shuttle
and take a tour of Hearst Castle.
Virtual Tours of Hearst Castle are also available on the mobile app.
After the Castle, we motor on down Pacific Coast Highway 1 (PCH1)
to San Luis Obispo for a drink at the swanky Madonna Inn Silver Bar Cocktail Lounge
and a bite to eat in the Copper Cafe
before continuing on to Santa Ana, California for a few days.
 But first…breakfast…
Meanwhile at Hearst Castle, the coastline overcast burns off
by the time our shuttle stops at the top of the hill,
as beautiful blues skies compliment the wondrous architecture of Hearst Castle.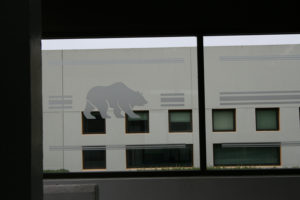 Riding the shuttle to the top of the hill.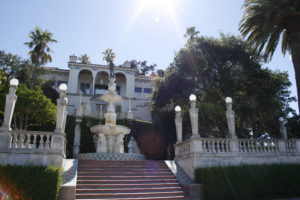 Unfortunately, the tour price does not include a dip in the stunning Neptune Pool.
In fact, to quote the Hearst Castle Tour Rules regarding pools and fountains,
"Visitors are not permitted to contact the water by wading,
jumping or placing any part of their body into the pools or fountains."
Warm August day, the temptation to swim is so inviting…
With so much beautiful architecture, sculpture, and foliage,
we soon become the stragglers of the tour group…