Wake up early in San Simeon, California, check out of the San Simeon Lodge,
and head over to the San Simeon Beach Bar & Grill for breakfast and coffee,
and then drive over to the Hearst Castle Visitor Center to catch a shuttle and take a tour of Hearst Castle.
Virtual Tours of Hearst Castle are also available on the mobile app.
After the Castle, we motor on down Pacific Coast Highway 1 (PCH1)
to San Luis Obispo for a drink at the swanky Madonna Inn Silver Bar Cocktail Lounge and a bite to eat in the Copper Cafe
before continuing on to Santa Ana, California for a few days.
So long Hearst Castle!
So long San Simeon!
Onward to San Luis Obispo and the Madonna Inn.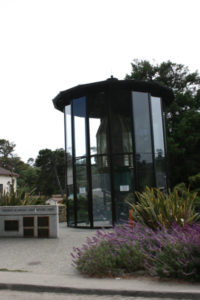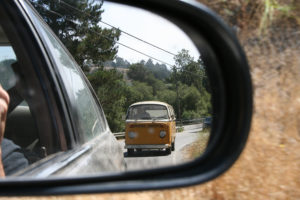 Now passing through Cambria, California.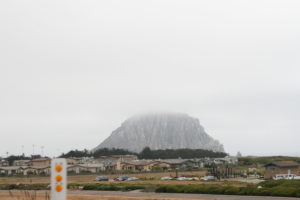 Now entering to San Luis Obispo, California.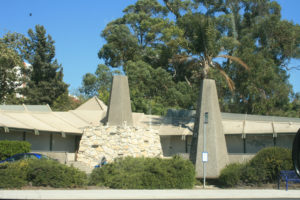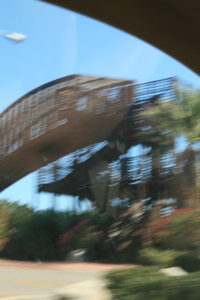 Now arriving at the Madonna Inn.
The pool.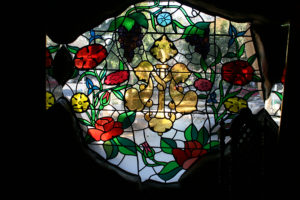 Welcome to Madonna Inn.
Exploring the downstairs of the main lobby building.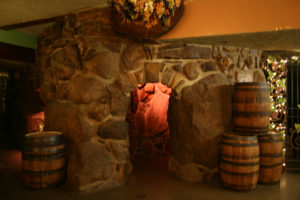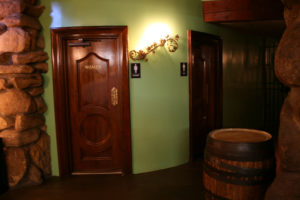 The men's room…
The famed rock wall waterfall urinal with motion sensors
triggering the water to run down the rock face…
A shot of the unforgettable pink and red flocked Madonna Inn wallpaper.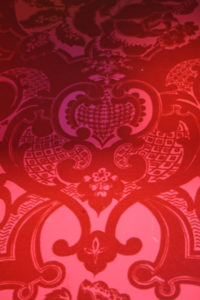 Now entering the Madonna Inn Silver Bar Cocktail Lounge,
the windows feature colorful stained glass imagery lit up in the daylight.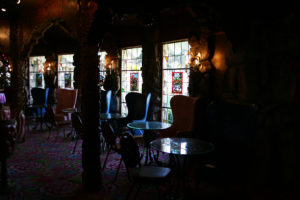 Classy setup!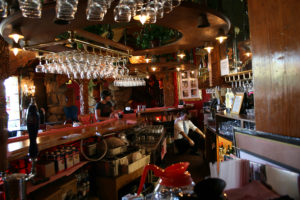 Around the corner is the stage and dancefloor (live music nightly).
The Gold Rush Steak House across the other side of the room.
Only open in the evening, we're too early for a steak.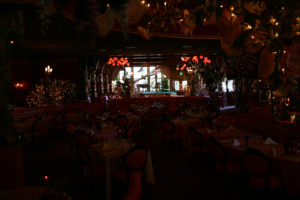 No steak!
So we head over to the Madonna Inn Copper Cafe
and Bakery for a bite to eat.
Cor Visser murals above the booths.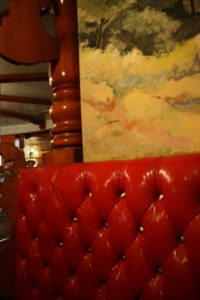 Another restroom pitstop before with hit the road,
this men's room is not quite as hilarious as the rock wall waterfall urinal,
but the decor is certainly unique.
Gift bag!
We bought a Madonna Inn refrigerator magnet
from the gift shop.
Farewell Madonna Inn!
Onward to Santa Ana, California.
Vintage vehicles en route.
Back window sticker: "Model A Fords Have Never Been Recalled"
The night sets in and we pull off by a call box
to descend an eroded staircase to the rocky shore.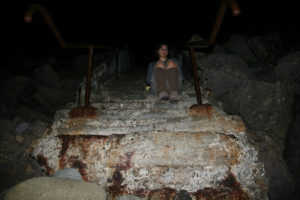 Too dark to see, we continue on to our destination.