Lofty sightseeing goals meet us this morning.
in hopes of gaining entry to the famous domed ceiling of the basilica
then reality slaps us in the face:
lines wrap around the complex in all directions and our situation is hopeless.
(Image Source: Internet)
The disaster of a queue at San Pietro is not on the menu for today.
Back to the Metro, we ride to the center of the city.
Swarms of visitors flock around the most famous sight in Rome:
When opened in 80 AD, the festivities lasted for 100 days
and included death matches with rare animals and even sea battles!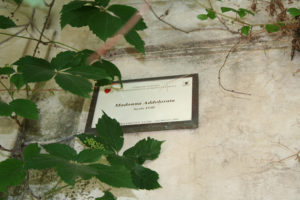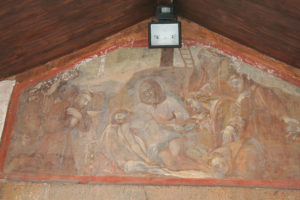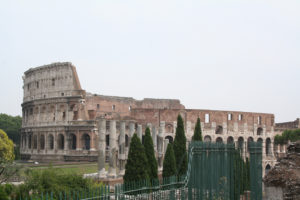 luxurious dwellings of the Roman upper class overlook the Forum.
Sprinklers are a relief in the relentless heat.
Hair already dry, the sweat pours as we enter the ongoing excavation area
of the ruins of the largest forum in Rome, the Roman Forum (Forum Magnum).
Historically used as an area for commerce,
this forum later became an epicenter for religion, philosophy, and politics.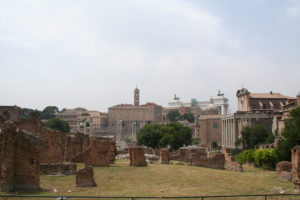 View of the Forum looking west.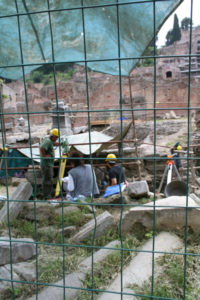 A team of women excavate and record ruins
The end of the sun scorched plain is in sight at the base of Capitoline Hill,
once the political center of the city, and home to the Arch of Septimius Severus.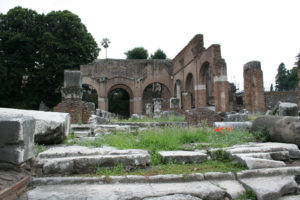 Three columns at the Temple of Castor
and the ruins of the Imperial Palace on Palatine Hill.
in the most crowded deserted place in the world.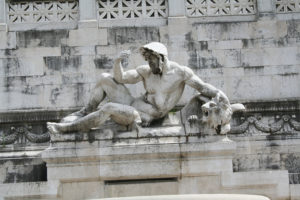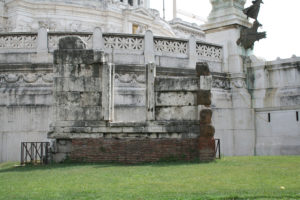 Seen from all over Rome, we finally approach the Altare della Patria,
built in honor of Victor Emmanuel, the first king of unified Italy.
Completed in 1935, the structure also frames the Tomb of the Unknown Soldier.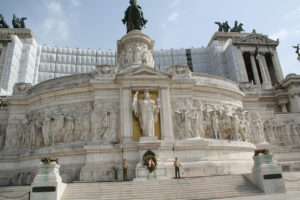 A giant among Italian military police vehicles…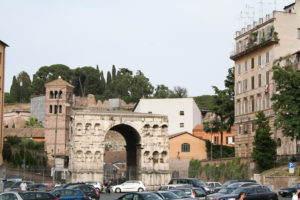 Walking further on, a grassy park opens in front of us
that was once the infamous racing track, The Circus Maximus.
(Reconstruction Image Source: Internet)
Overhead view of Circus Maximus and the Imperial Palace on Palatine Hill.