Morning in Reno, we check out of the Siena Hotel, drive through Truckee
and the Nevada-California border on our way to Sacramento
where we stay on the Delta King, in Old Sacramento, and walk the area
including the California State Capitol Museum and Capitol Park, and K Street Mall.
The Truckee River splits Reno in two.
In the night, taggers hit the building across the river.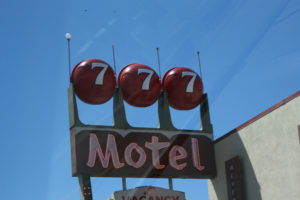 The real reason we set out on this expedition,
the Gregory Euclide: Nature Out There exhibit at the Nevada Museum of Art, Reno.
No photos allowed!
However, Euclide's work may be seen on his website
and the band Bon Iver used a Euclide for their 2011 release, Bon Iver.
As well, the Wilbur D. May Sculpture Plaza is outside the Nevada Art Museum,
so we took some shots of the outdoor sculptural works.
(Note to art patrons: No overpowering fragrances such as perfumes or aftershaves!
No one wants to smell you while they appreciate art!)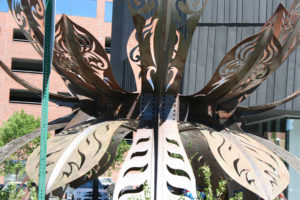 After the Euclide exhibit, we started for Sacramento, California.
Now entering Truckee, Nevada.
The Kruger-White House.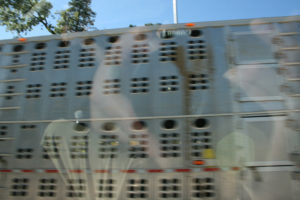 Now entering Sacramento, California.
Tower Bridge crossing the Sacramento River.
Moored on the Sacramento River, the Delta King is our home for the evening.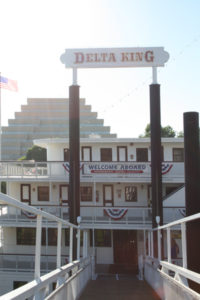 Tower Bridge in the distance.
Pioneer Park, Old Sacramento, California.
Visitors of Sacramento may use the convenient K Street Tunnel pedestrian underpass access
connecting Old Sacramento with Downtown Sacramento
by going underneath Interstate 5 (I-5).
Historical Timeline of Sacramento in the K Street Tunnel.
The view of K Street after exiting the Downtown Plaza.
The former Burt's Shoes and Tower Records building with mural designed by Frank Carson.
K Street Tunnel
mural designed & painted by
Juanishi Orosco, Daniel Orosco, and Joe Orosco,
Royal Chicano Air Force (RCAF) (1982),
commissioned by
Sacramento Metropolitan Arts Commission (SMAC).
With the evening quickly setting in,
we return to the Delta King
after getting shut down for dinner.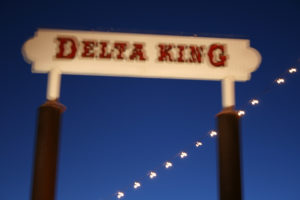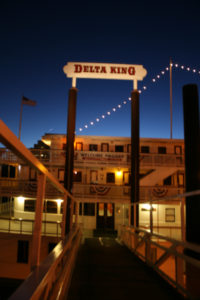 The Ziggurat lit up at night.
Back in the room we check in on the televised 2012 Summer Olympics
and review the newspaper and map for the next morning.
No dinner other than what we brought with us,
after the Olympic highlights, we step back out on deck
to take some shots of the Delta King after dark.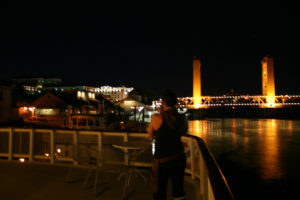 In the room again for a beverage refill…
…and, after a shower, again on deck to enjoy the night air
and the rushing Sacramento River.