|
Adventure leaving the island paradise of Naxos
to return to Athens to catch a cross-country train
to the second largest city in Greece, the northern city of
Thessaloniki
.
Backpacking can be romantic…
First in line, soon others pile up behind us
as the next ship out of Naxos is behind schedule.
After boarding the nearly empty ship,
most passengers appear to have reserved seats as the deck is deserted.

Steaming away from the island city of Naxos
under a bright white moon floating in the sky and sea as we sail toward Athens.
Long benches become beds as we snap the gear underneath
and pull out our blazing red airline blankets for scant warmth while intermittently napping.
Sea-faring sleeping arrangements and the eventual rising sun on the Aegean horizon.
After 8 hours, the skyline of mainland Greece is in sight.
Disembarking at Piraeus, we are eager to find the Metro out of this Athenian suburb.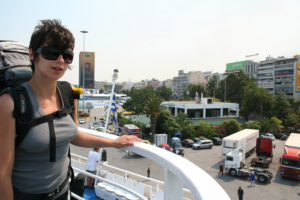 To the train station to purchase tickets to Istanbul, Turkey.
After rude information, the window needed to purchase international tickets
would not open until after our desired train had already left.
More time to pass, the bags are once again dumped in a locker, and a meal is sought.
An excellent cafe offers wonderful local fare
with the "coldest Mythos in town" – complete with beer-cicles!
The owner even throws in a complimentary paella (tastier than those in Malaga!)
and some refreshing watermelon slices. 
With hunger satisfied, we pay our thanks and say goodbye
as an elderly Athenian offers his apologies
for the unbearable weather due to the "Super Warming".
Time to buy tickets and board our train to Turkey,
we are eager for the next destination.
The train's trip is routed from the southernmost point of the country, Athens,
all the way to the far reaches of the northeast, to Thessaloniki,
and then crosses into Turkey en route to Istanbul.
By the time the train moves onward, the sweat is rolling into our eyes.
Finally! Time for some air conditioning!…but it never cools.
To save energy, we sleep as much as possible,
and fortunately wake in time for death-defying train trestles
winding through mountainous peaks.
This flower epitomizes what the hot train car feels like…so much for romance…
From midday to sundown the train and it's broiled riders
roll through the
sun-scorched
plains of Greece.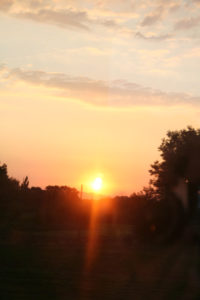 After dark in Thessaloniki, there is a confusing layover
as everyone is instructed to exit the train to change to another with air conditioning.
Finally!
When the time comes to board the new transport, a free-for-all ensues.
With this opportunity, we locate an empty private car,
lock the doors, close the curtains, and blast the air conditioning!
Soon, a knock on the door from the conductor and an unlocking key
sends us back to the cattle car where we belong…
through the remainder of the night.