|
Morning at Villa Adriana!
The day after the long wait in Piraeus.
We enjoy complimentary coffee, breads, egg, and wonderful fresh strained sheep yogurt.
Our white and blue room is an oasis aglow with sunshine and a call to breakfast!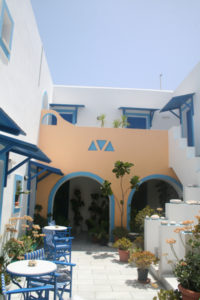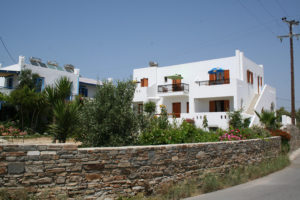 The hotel is quaint and well-kept with a uniquely Greek island atmosphere.
After some exploration, a dip in the pool is the refreshment needed to start the day.
A short hike through the roads of country inns leads to the beach.
Strange abandoned buildings and vehicles litter the sides of the dirt road.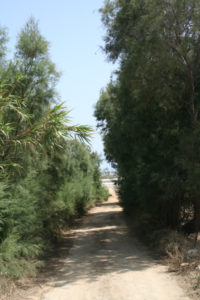 We make it to the shore abound with European topless bathing
The heat drives us into a small township outcropping for a refreshing Mythos beer.
A short walk along the Aegean provides no affordable options for lunch, so we head back.
Returning the way we came we pass the same abandoned Volkswagen Van and buildings.
Goats! Just like the cheese we ate for breakfast!
A bit of heatstroke from the intense Grecian sun,
in the room a
dizzy
spell requires rest as we both possibly suffered
a small bout of heat exhaustion or sun poisoning.
After a rest, we head out again to the township
to find tickets back to Athens in time to catch a train to Istanbul.
The only option leaves in a few hours at 2.30 am.
A nearby hotel has some interesting amenities…
A small, empty family owned and operated restaurant beckons us for dinner.
We settle in to enjoy some live
Rembétika music and Ouzo.
The traditional eggplant dish, Moussaka beautifully complimented the outdoor dining.
A look around the interior of the restaurant
provides an interesting collection of musical instruments.
T
he owners of the restaurant thrust a violin at us to try
.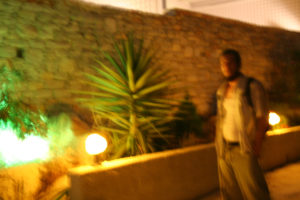 Returning to our room, the packs are once again stuffed full, and after a series of problems,
(namely getting locked out of our room and concerned we won't make our boat)
a taxi hauls us back into the city of Naxos to the port for the 2am boat back to Athens.