We set out after our FREE breakfast at the Residencia…
The hostel leaves out crayons and paper
for guests to draw and affix to the walls of the dining area.
We produced this Elvis Presley sketch while waiting for our food.
Looking over city maps while eating,
we decide our destination of the day will be El Museo Picasso.
On the walk we see the city street under subway construction by daylight.
The construction in the daylight is more dangerous,
but at least it is light enough to see!
Bullfighting and Equestrian Posters
Shop shutters sprayed with graffiti.
After another look at the map, we see the "river" we need to cross.
Guadalmedina (River of the City), the river is something of a controlled wash,
with a grassy area in the middle.
This waterway flows out to the Mediterranean Sea.
The Málaga city symbol on a dumpster.
Crossing the Guadalmedina with views of both directions.
CAC Málaga, Centro de Arte Contemporáneo Sculpture at main entrance
with banners for Ron Mueck and Rachel Whiteread.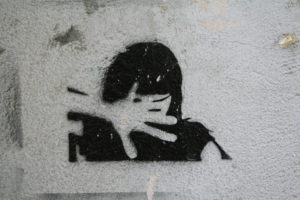 Something like an area map.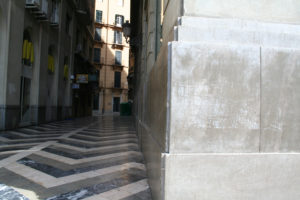 A visit to Málaga was part of an awakening journey taken
by the legendary fairy tale author, Hans Christian Andersen.
Here Andersen is honored with a bronze sculpture by José María Córdoba (2005).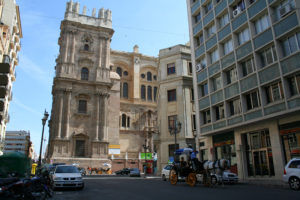 From a busy commercial street, an old structure definitely stands out,
Málaga Cathedral designed by Diego Siloe.
Santa Iglesia Catedral Basílica de la Encarnación.
We approach to investigate…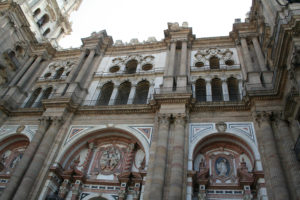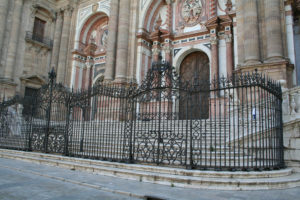 An important historical site,
the Cathedral is massive in size and placed in an open square.
There are three sidewalk cafes surrounding the building,
but the prices are geared toward someone other than us.
We keep moving…
There are small, unmarked, dark alleys everywhere.
It's tough to choose…we select an alley and find some interesting sights.
Where once there was a building…
Calle Muro San Julián y Plaza De San Pedro Alcántara.
Stencil and spray street art becomes one of the features.
Street art becomes juxtaposed with religious iconography.
Nuestra Senora Del Traspaso y Soledad y Nuestro Padre Jesus Nazareno
"Las estrellas no tienen novio" – Federico Garcia Lorca
(The stars have no lover)
Exiting the closed, quiet alley on the other side,
into a bustling courtyard full of people.
A sort of gathering is taking place at the church.
Maria Santísima Del Amor Dolorosa y Nuestro Padre Jesús de la Pasión
Tile mosaics at Iglesia de los Santos Mártires.
Plaza De Los Mártires Ciriaco y Paula
y
Bombones (Confectionery)
y
Cruz Campo (Spanish Beer) with the Spanish Flag
We retreat under white umbrellas and a building-sized Picasso work.
We dodge the people to find an empty outdoor table at
Cafe Central
.
We order
Cruz Campo
cervezas
and paella with shrimp.
that may have originated from the Al-Andalus times of the Moorish (Muslim) rulers
of the Iberian Peninsula (AD 711-1492)*
Linguists believe that the word paella comes from
the name of the pan it is made in – the Latin term patella,
a flat plate on which offerings were made to the Gods.
Novelty bottles shaped like matadors and bulls.
Interested in sampling more local flavors, we visit a bottle shop behind the restaurant,
and
purchase a bottle of Artemi
ron meil
(honey rum) for later…
The Plaza de la Constitución and the Fuente de Genova (Fountain of Genoa).
The building-sized Picasso work can be seen with the red border above the trees.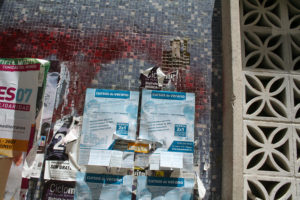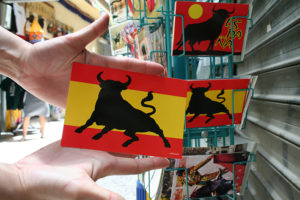 Espana! Toro!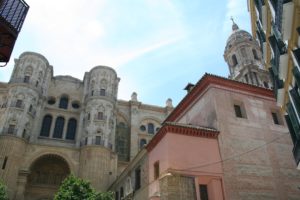 Wandering around, it's apparent the city is not very large –
We happen upon the earlier Málaga Cathedral again, but from another side!
The front of the church was gated, but we were able to check out details on this side.
Also, there is an entrance on the side requiring a fee.
We enter the lobby to explore and
take photos…
No photos! We are quickly told to refrain.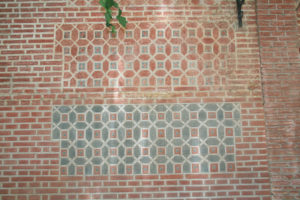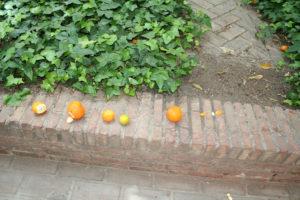 Before ever arriving in Spain, we were warned:
No eating the King's oranges!
Outside again and a

round the back of the Cathedral,
we find a different sort of place…a well-kept garden!
After a cool break in the hedges,
we continue our explorations through the city.
Calle Pedro Del Toledo.
Taking turns dramatically posing on a corner step pedestal.
Where once there was an audience, on the edge of the old town,
we find Teatro Romano, the Roman amphitheater ruins.
Before arriving in Spain,
we were also warned not to utter the above rude phrase.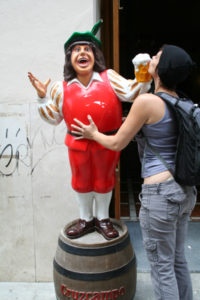 Sharing a Cruz Campo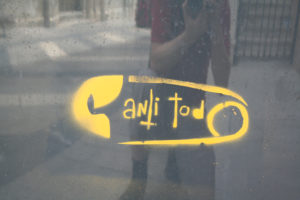 We reach our first destination of the day: El Museo Picasso!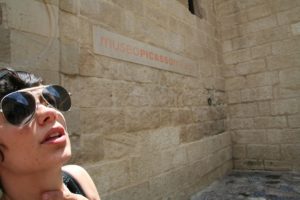 …no photos allowed.
The large collection showcases a broad exhibit ranging
from all periods of Pablo Picasso's career.
The museum is a new addition to Málaga
honoring the city's role as Picasso's birthplace.
Fundación Picasso (Picasso Foundation) and Museo Casa Natal Picasso (Picasso Birthplace Museum)
also celebrate the artist.
The Museo Casa Natal is located in Plaza de la Merced
marked in the center by El Monumento a Torrijos obelisk.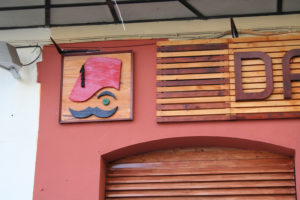 Through old town to return home,
where once there were other buildings,
ghosts of condemned buildings are visible from the sidewalk.
Crossing back over the dry riverbed wash, Guadalmedina, we see people playing futbol.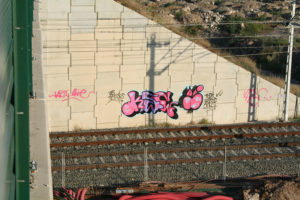 Home sweet home for the evening.
For dinner, we self-cater…our new stand-by:
Iberian salami, sliced cheese, water, beers, bread, and potato crisps.
and enjoy the dangerously delicious Artemi ron miel

,
honey rum we procured while sightseeing.
Sweetly intoxicating nectar…
Into the evening, stifling air requires an open window.
From across the courtyard,
we overhear a guitarista playing,
and German tourists conversing in the showers and their rooms.
Stretching out in the bunk beds,
mosquitoes bite any uncovered flesh available..