– Ensenada, Mexico! By Ship! 7.7-9.06 –
Hey alright!
Some friends got married, took a honeymoon cruise to Ensenada, Mexico, and invited us along.
This was our first bonafide cruise, so we didn't know what to expect,
and once at sea we wanted to get off
as the experience may be compared to
being locked in a shopping mall until the next port, maybe days later.
A jewelry store and an art auction were among the amenities aboard.
Once in port, there wasn't really much time to explore,
so we didn't do any partying or trinket purchasing,
just sightseeing and enjoying some spirits as we explored.

The fabulous harbor in Long Beach, California

Practicing an emergency scenario…we're all drowned…

At Sea…

At Port…

At Sea again…

Separated on the voyage to Ensenada,
the following shots were taken by our traveling companions
before and after we finally met up back on the ship:
Back on the Ship…goofing for the children at breakfast…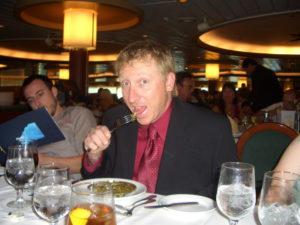 At dinner with Double D
…and then…
Karaoke Solo:
"I Will Survive" by Gloria Gaynor…in falsetto.
Karaoke Duet with Double D:
"Stray Cat Strut" by The Stray Cats.
Legendary performances…you just had to be there…