This morning we wake with an appetite…finally!
Botz fries some drippy eggs and we enjoy with coffee
and a fresh baked crusty bread homemade locally in the village.
Unfortunately, our late start of the day does not allow for a trip to a site of

interest:
Instead, we opt for nearby
Cueva del Gato
(Cave of the Cat) at Botz' suggestion.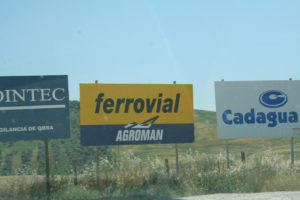 Cueva del Gato Hotel-Bar-Restaurante
A brief, beautiful twisted drive
though the mountains to the footpath leading to the cave.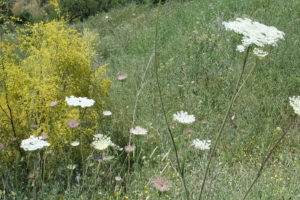 Shade of fig trees cool the moist landscape.
A short hike over a small stream and under a train trestle
leads to a pond with a waterfall that dumps crystal blue.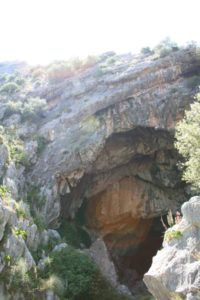 Closer inspection reveals the water is a river flowing out of la cueva.
A small cement catwalk allows closer views of the

waterfall and

Cueva del Gato.
There was an overwhelming chill in the air emanating from deep within…
Entering the cave is prohibited as it lacks a safe walkway.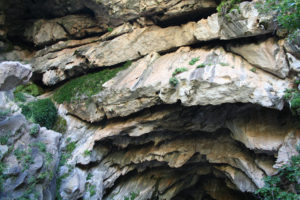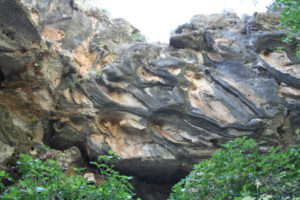 Most of the a large trees around the mouth of the ca
ve and river are fig trees.
We were warned not to indulge in the King's oranges, but perhaps a fig is fair game…
Not exactly *tasty* or ripe, the fig is someone's home…a tiny larvae!
A part of an endless food web, the worm is sacrificed to an ant colony.
We start our hike back down, stopping at the edge of the stream.
Botz recommended this water for swimming- maybe a little early in the season.
The icy tingle of the cave-cooled water
soon drives me back to my sandals in the grass!
Bees buzzing around a busted battery in the grass.
…but Botz kept his word to swim under the waterfall and back!
Exploration of the arced trees on the other side was out of the question…
We continue the hike back to the car,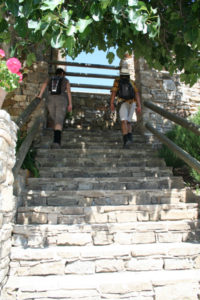 Networking skills land us a new friend, Tina, the dog-in-residence.
Striking purple among so much beauty!
A quick peek inside the Gato dining room.
Bye bye, Tina, be good girl!
On the road again, exotic homes dot the hills.
The outskirts of a village larger than Cartajima,
and a bullring of a different size than Málaga.