Business aside, today we make the short drive
to Casselton, North Dakota
to tour the Maple River Winery
and we enjoy some peanuts, pints, and pizza at the original
Red Baron Lounge and Pizza Pub.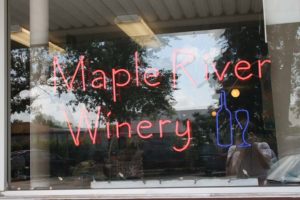 Here our guide gives us the tour of the tanks.
The winery displays a map with pins representing visitors from around the world.
We were not the first visitors from Las Vegas!
Here we are fortunate to meet Greg Kempel, the owner of Maple River Wines!
And he's kind enough to take a photo with us!
Great people! Great wine!
View the Wine List and Order Online!
Aronia, Gooseberry, Apple Jalapeno Pepper, Dakota Cherry,
Dandelion, Apricot, Country Crabapple, Hone Apple,
Chokecherry, Dakota Pear, Lilac, Apple Strawberry, Rhubarb,
Honeycomb Plum, and Raspberry
After the Maple River Winery we have a seat at the Red Baron for some tasty pizza.
A rainbow without rain and a summer sunset like a forest fire in the sky
…beautiful…
And so begins our evening…