A knock at the door, we are woken by housekeeping
to check out of the Hotel Niza, Salou.
Looking left and right out our window view.
Bare wires where a television may have been in our room.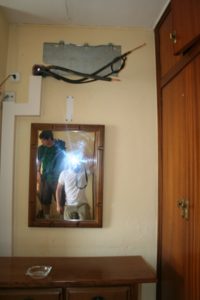 A bad night's sleep with train horns sounding by dawn.
After using the train station locker storage, we search out a tasty breakfast.
Squid and potatoes, and of course a beer or two.
We venture out to the beach laden with tourists to find a pay phone and call Aziz.
After we lose most of the day and four Euros to the fast-talking payphone,
we give up on finding Aziz and decide to return to Barcelona for the night.
Once again on and off the train, we spill into the night on the main drag called La Rambla
and are immediately bombarded by tourists, vendors, and expensive restaurants.
The guidebook directs us to hostels in the vicinity.
A contraption of a room, it contains three long single beds and a tiny balcony.
Getting organized for a night's stay in the compact room.
The view out the one-person balcony was exceptional.
A small distance from La Rambla, this street was surprisingly calm.
A nice retreat.
With the back of the chair against the railing of the balcony,
we may enjoy a bit of serenity in a large city.
After a short rest, again out to La Rambla

to search for a dinner.
Prices are out of the question.
Backs tired, and hunger grumbling begin anew
until we spot a potential meal far from the crowds.
We enter the German themed tavern and are told they are about to close.
After some begging, we are allowed to order only certain items if we hurry –
bocadillos or hamburgers.
We'd had it with bocadillos, so burgers are in order.
A large stein of beer and possibly one of the best sandwiches we'd had in a long time,
We return to our room for much needed sleep.