spending the early hours 
writing a letter
and shooting some still life compositions in the room.
After a restless night's sleep,
we skip breakfast again or otherwise risk missing our bus to Ronda.
Put the packs together, settle the bill, and hike to the bus station…!
Less than an hour until departure, but the Metro construction
and our
poor map complicated the
situation.
We made it to ticketing with minutes to spare!
We stowed our packs under the bus, and boarded the air conditioned messenger
to the mountains moving forward in adventure!
Traveling to a tiny village where we are booked for the next 3 nights…Cartajima.
The high mountain village cannot be reached directly.
First, a 3 hour bus ride from Málaga to Ronda
where the manager of El Refugio hostel in Cartajima will meet us.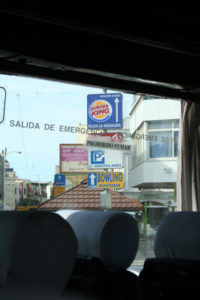 Shooting from the window, we rumble along the resort-driven Costa del Sol.
Stops along the way fill the empty seats with tourist families.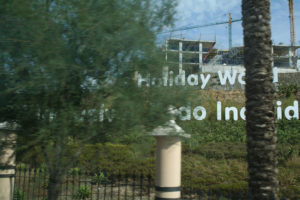 As we climb into the hills to Ronda, the views are spectacular.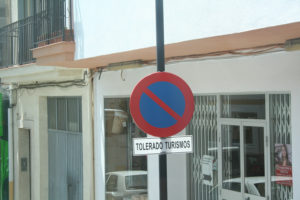 Whereabouts: bus station in Ronda.
No maps of the city, not sure what direction we came from.
Payphone with a few false starts, and able to connect with Botz,
the manager of El Refugio in Cartajima.
Finding a cafe with a patio, we sit at our known destination: bus station in Ronda…
waiting for a man named "Botz" with a British accent
to drive us high into the Andalucian mountains.
Sharing a beer, watching the cars and people,
Ronda has a different feel that is much more enjoyable than Malaga.
Relaxed, more exotic and quaint
Soon a lanky, sun dried man with long hair greying at the temples
approaches our table and introduces himself as "Botz".
Into the Sierra de Ronda mountains
we stop on the way at a wayside cantina for a
bocadillo
(sandwich),
cerveza,
and a local sherry for Botz.
An opportunity to sample the flavor of our guide:
punk in London, estranged in India,
chef in Athens, hostels in Amsterdam…great storytelling and jokes!
 Curving around narrow alley and tight turns to one white building out of many.
We unload the gear and groceries from the van
and enter for a tour of the mountain hideaway, El Refugio.
Still quite sick from the day before, a rest is needed into the evening.
Except for another couple, El Refugio is empty.
Botz gives us a choice of shared dorm rooms with hanging loft beds,
or a private double room with dark wood beams exposed out of the white plastered walls.
We take the private room.
For dinner, our host prepared an excellent Mountain Paella